OUR PROFESSIONALISM at your SERVICE
is at the forefront in the industrial automation sector which, thanks to a team of professionals, has experience and know-how to support and examine your company at 360 °.
Siemens (from the old 810 analog to 840 d), Heidenhain, Fagor, Selca, Mtx-Boschrexroth, allowed us to evaluate the strengths and weaknesses of each CNC. These technologies have been consolidated over time and flow into our CNC, Dynamic-CNC, which represents an economic solution for retrofit, but also for newly built machines.
Our timeliness in studying and solving the problems of our customers is certainly successful and continuous, without problematic problems on the controlled plants.
CNCROBOT is a young and dynamic company, founded by staff with decades of experience in the field of service on machine tools.
Thanks to our professionalism and competence, we create complete solutions in the field of Software Development and System Integration, offering advanced, complete and totally integrated solutions in Industrial Automation and Industrial Informatics.
We provide our customers with concrete and effective support in the installation, maintenance, modification and retrofit of machine tools and work centers of the main brands. Our main objective is to satisfy the Customer's needs, thanks to the professional competence and quality of the service.
The strength of our company's interventions is retrofitting, a service performed with high-level technical and electronic materials to guarantee excellent performance of more obsolete machines.
He has many years of experience in technical assistance on machine tools and automation systems, also in software development with National-Instrument tools, VHDL, Assebbler, Realtime systems, C ++, Python.
Furthermore, the experience gained in various systems managed with CNC and PLC systems and certified courses at brands such as: Fanuc, Fagor, Siemens (810a-840D-Sinamics), Heidenhain, Selca, Mtx-Bosch Rexroth, allows them to modify, implement and improve existing systems, such as adding 4th and 5th axes on machine tools or interfacing robots to the machines themselves.
She operates specifically in the administrative direction, organizes and coordinates the company's accounting and financial services and manages its employees.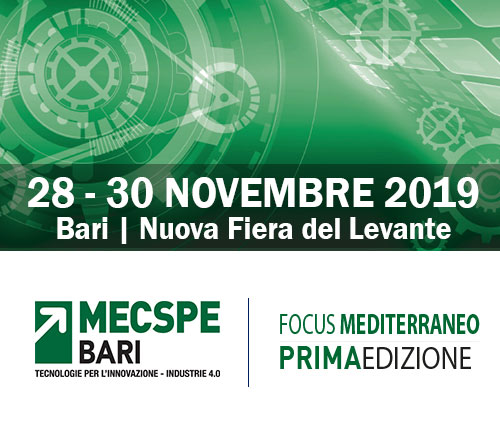 CNC Robot participated in November 2019 at the Mecspe in Bari, an opportunity for business and networking, where you can discover the excellence of the whole supply chain for an intelligent factory, through paths dedicated to the key themes of innovation and digital transformation.